Schlaifer's Enameling was founded in 1990 by Joan Schlaifer.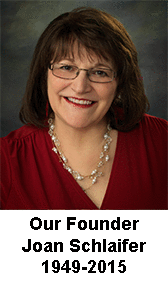 It all began during an enameling class at
Creative Arts Group
in Sierra Madre, CA. A fellow student was very excited that the products they had ordered were received after months of waiting. Joan thought "this can be done in a more timely manner". Since her current work environment was not optimal, and her husband was willing to support her in beginning a new business, Schlaifer's Enameling was born.
In 2000, Joan was diagnosed with stage 4 breast cancer. Joan was lucky to have a female family physician who listened to Joan when she said her breast did not look right. A mammogram was negative, but the physician sent Joan for a scan. The scan identified a tumor that was very diffuse and tenicaled. Surgery followed, as did radiation and chemotherapy.
Joan had a marvelously positive outlook and never let her cancer define her. She was always bright and cheerful, even with continuous chemotherapy and repeated metastases until her death.
Schlaifer's in now owned by Joan's husband Steve and Vicki Mathieu. Vicki runs the office and Steve does the custom cutting.
Joan's legacy message to all women is:

"You need to look at yourself in the mirror.
Don't just rely on mammography".
Joan's favorite expressions:
Color is addictive
May you always enamel with passion in your heart