Cost to run a kiln
Thompson Electric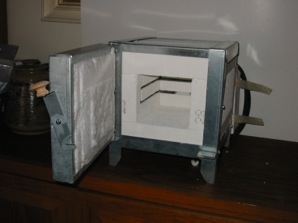 The TK-1 small kiln is no longer available. The following replacement parts are still availble.
TK-2 Replacement Element $37.15
TK-3 Replacement Door and Rod $40.85
These will be drop shipped from the manufacturer.
For a starter kit using this kiln, visit Beginner's Kit
Vcella Kilns™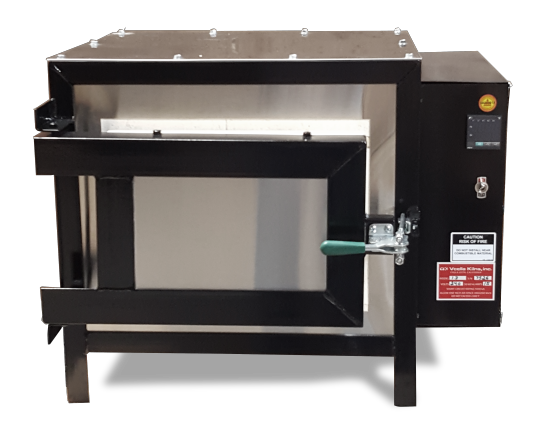 These kilns come with a kiln shelf. All Vcella Kilns™ are 2300°F maximum temperature, and may be used for any media. The Vcella Kilns™ come with a single set point automatic temperature control, pyrometer and a kiln shelf. Programmable multi-point solid state electronic temperature control units are available for all Vcella Kilns™.
These are dropped shipped from the manufacturer. They ship by motor freight and shipping charges depend on distance and whether they are being delivered to a loading dock or not. Shipping to a facility with a loading dock is cheaper. Shipping to a facility without a loading dock is a minimum of $100.
A multi set point controller is available separately and can be installed on your kiln prior to being shipped.
Multi-point Controller $150.00
Dimensions are listed as Width x Depth x Height
Other larger models are available. Please call for information.
| Model | Inside Dim | Outside Dim | Wt Lbs | Volts | Amps | Price | Crating |
| --- | --- | --- | --- | --- | --- | --- | --- |
| 6 | 6"x6"x6-1/2" | 19"x15"x19" | 70 | 120 | 12 | $1337.00 | $44.00 |
| 9 | 9"x10"x6-1/2" | 22"x19"x19" | 95 | 120 | 15 | $1612.00 | $44.00 |
| 11 | 9"x10"x11" | 22"x19"x23" | 125 | 120 | 15 | $1730.00 | $68.00 |
| 12 | 12"x12"x6-1/2" | 25"x21"x19" | 130 | 120 | 15 | $1730.00 | $68.00 |
| 13 | 12"x12"x8" | 25"x21"x20" | 140 | 240 | 20 | $1854.00 | $68.00 |
| 16 | 16"x16"x11" | 29"x25"x24" | 190 | 240 | 20 | $2371.00 | $80.00 |
| 18 | 18"x25"x11" | 26"x30"x23" | 340 | 240 | 45 | $4133.00 | $80.00 |
| 21 | 20"x20"x8" | 28"x30"x25" | 230 | 240 | 24 | $3743.00 | $87.00 |