Carefree Lusters™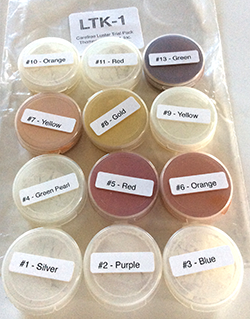 Carefree Lusters™ are used as a surface application which results in a "metal flake" or "sparkle" appearance. Stabilized for glass, glazed ceramic and enameled metal applications. Supplied as a dry powder for mixing in water or oil base media. Lead-free and without toxic fumes; but avoid breathing dust. Apply by brush to dry, fused vitreous surface, air dry and fire at a pre-determined temperature. Fire at 1350°F for 3 minutes with enamels on copper. It comes in 12 colors: clear silver, purple, blue, green, yellow, orange, red, metallic yellow, metallic orange, metallic red, metallic gold, and metallic green.
LTK-1 Small containers of all 12 powder colors below (approximately a teaspoon) $18.65
Luster Powders 20 gram jar of powder $14.85 per jar Special Order
LR-1 Silver
LR-2 Purple
LR-3 Blue
LR-4 Green
LR-5 Metallic Red
LR-6 Metallic Orange
LR-7 Metallic Yellow
LR-8 Metallic Gold
LR-9 Yellow
LR-10 Orange
LR-11 Red
LR-13 Metallic Green
LR-SET Rainbow kit: 20 gram jars of all 12 colors $164.15 Special Order

Luster Water Colors 10 gram jar $8.00 Special Order
WCL-1 Clear Silver
WCL-2 Clear Purple
WCL-3 Clear Blue
WCL-4 Clear Green
WCL-5 Metallic Red
WCL-6 Metallic Orange
WCL-7 Metallic Yellow
WCL-8 Metallic Gold
WCL-9 Clear Yellow
WCL-10 Clear Orange
WCL-11 Clear Red
WCL-13 Scarab
WCL-SET Rainbow kit: 10 gram jars of all 12 colors $87.80 Special Order

Luster Decal Sheet
For use on any vitreous surface: enamel on metal, enamel on window glass, stained glass and pottery. Cut out your design, place in water for a few seconds, position, squeegee, dry and fire. For more than one color let decal dry for a few minutes, add the next color in the same manner. Decals can be overlapped on the first, second or third firings.
Only Orange is available.
DSO-6 Half Sheet - 8.5" x 5.5" $7.80
DSO-11 Full Sheet - 12" x 8 3/4" $14.90
Discontinued Luster Powder
This can be used as a surface application or can be covered with transparent glass. The results look like metal-flake or have a sparkle appearance. Supplied as a dry powder for mixing with water or an oil base medium. Apply by brush to a dry, fused vitreous surface, Air dry and fire at a low temperature. Try 1300°F for 3 min. for enamels on copper.
LS-1343 Hi-Light Blue Luster Powder, 25 grams $9.45 Only 2 available
Dichroic Decals

FAR OUT Tie Dye Dichro Magic Decal 2-3/4 x 8-1/2" $14.95
Dichro Slide Sample Set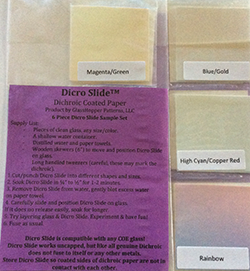 Includes 6 solid color decals that can be cut with scissors or paper punches. Each sheet is 2" x 2". $34.00
Solid Color Decals
Apply to a fired surface, dry and fire. Not for use directly on metal. With this you can get an even coat with sharp edges, straight or fancy curves. Cut the shape you want and apply.
Individual sheets are Special Order and are being discontinued.
ED-909E Orange
ED-910E Brown - we have 1 half sheet in stock
Please Specify size when ordering.
Half Sheet - 6" x 8-3/4" $8.65
Full Sheet - 12" x 8-3/4" $16.60
Metalic Decals
Gold and Platinum Decals
These decals were found at a Glass Expo. We have fired them and they work best on a pre-enameled surface firing at 1300-1350° F.
Further testing revealed the following. The decals are very thin, so they are not like foil. We tried flux over the decals and it dimmed the metallic look. During firing, you do get a flame produced from the decal material. It will go out, and burns clean so there is no ash. We also tried firing with the door slightly ajar and the metallic look was more lustrous. Continue firing just for perhaps 10-15 seconds after the flame is out.
Note: You may hear a "Whoomph" when firing. It is the decal material igniting, which is expected. If you have a window in your kiln, you will see it ignite; it is a small flame and it goes out shortly.
There is a wax paper type material on top of the decal sheet. It is there to protect the decal in transit. You remove this before putting the decal in water. If the paper does not want to come off, you can fire with it on. The flame lasts a bit longer since there is more material that is burning. It does not seem to bother the decal.
According to the manufacturer, he has tested them on glass for the glass folks and says that these patterns cure at 1325-1440° F.
4" x 4" sheets $12.70 each

MD-16 Curls
Platinum Only


MD-18 Fish
Gold Only

MD-19 Hearts
Platinum Only


MD-25 Mola
Gold Only


MD-33 Triangles
Gold Only


MD-36 Characters
Gold Only


MD-37 Cherry Blossoms 1
Gold Only


MD-39 Christian
Gold Only

MD-42 Feathers
Gold Only


MD-45 Judiac
Gold Only


MD-46 Leaves
Gold Only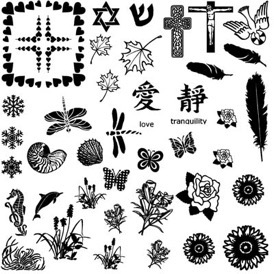 MD-49 Sampler 1
Gold Only