Kiln Cement
A high temperature air setting cement powder. Mix with water for hard surface linings, cementing bricks together or repairing kilns/furnaces. Add grog or crushed insulating brick to cement mix to patch or repair larger holes in kiln. Sold by the pound.
K-1 $3.10 per lb.
Porcelain Kiln Wash
Mix with water, apply with brush. To protect furnace shelf and floor from enamel drippings. Sold by the pound.
K-2 $2.80 per lb.
Hot Pad
A special heat resistant non-asbestos spun ceramic fiber pad. It can be used to protect the floor of the furnace or as a hot pad outside the furnace. It can be cut with a box cutter. Do not use on a hot plate type kiln.
PH-2 6-5/8" x 6-5/8" x 1/8" $5.90 each
PH-3 9" x 9" x 1/8" $6.60 each
PH-4 13-1/2" x 13-1/2" x 1/8" $14.90 each
Sheet Mica
This natural mineral comes in sheet form of various sizes. Lump enamel can be fired onto mica to make small spheres of glass and mica can be used as a backing material for flat plique-à-jour work.
MIC-1 3" x 5" $3.40 each
MIC-2 4" x 4" $4.40 each
MIC-3 6" x 6" $11.85 each
Siltex Firing Cloth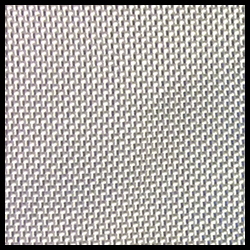 Siltex fabric is made with pre-shunk amorphous silica and is ready to use for enameling. The weave is fine, but will leave a slight texture on the enamel. Siltex can be used many times at normal firing temperatures and in most cases will not stick to either unfired or previously fired lead-bearing enamel.
Siltex 11" x 12" $5.00 per piece
Thin Fire Sheet is listed here
Firing Forks

HF-2120 Tine spread 2" wide x 5-1/2" long, overall length 22" with heat shield. $22.90
K-6 Two handed grip, overall length 26" with heat shield. No image. $33.95 Special Order
K-9 Heavy Duty long firing fork has extra hand gripper for elbow rest or two handle holding of heavy items. Overall length 36" including 7" tines. No image. $31.35 Special Order
Spatula

Stainless steel spatula for moving hot pieces or trivets. Overall length of 11 inches with wood handle.
K-10 $15.90
Scrolling Tool
Scrolling or Swirling Tool has stainless steel tip and protective shield. 21" long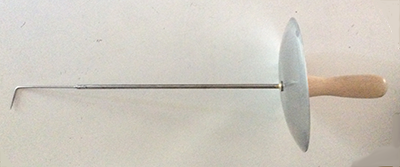 SC-21 $16.15
Nichrome Wire
This wire produces little oxide when heated, minimizing contamination in the firing chamber. You can use this in conjunction with other trivets to hold rings or other 3 dimensional objects.
NIW-1 18 gauge $1.60 per foot
NIW-2 20 gauge $1.60 per foot
Press Plate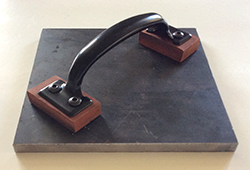 Very useful when you need to flatten a piece right out of the kiln. If you need a special size, custom sizes are available. Please call to order a custom size. Special Order
WSPP-6 6" square $41.40
WSPP-8 8" square $73.60
WSPP-12 12" square $110.50
Marinite Board
Marinite is a high temperature insulating board which stands up to enameling temperatures and is used as a support during firing for flat pieces. It is easily cut with any saw or can be scored with a utility knife and broken apart, 1/2" thick Special Order
PH-5-03 3" square $3.10 each
PH-5-06 6" square $8.80 each
PH-5-12 12" square $34.85 each