SW-Circle Shown as a Toggle, but a Decora (Rocker) or Outlet can be cut. Will not fit a double. 5-3/4" diameter $27.65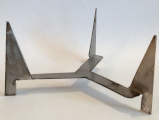 WST-3 A trivet to fit in smaller kilns! This trivet will hold a 4" - 5" dish, but is only 2-1/2" high. $9.00

Milliefiore New sizes and in both opaque and transparent. New sizes are 1-2 mm and 2-3 mm as well as the standard 3-4 mm and 4-5 mm. 1 oz packages.
New Inlay Tool
IT-4 Spatula and spreader in one tool. 4-3/4" long, scoop 1/4" $4.00

TD-49 8" x 4-3/4" x 3/4"deep $13.85

Base Metal Bracelets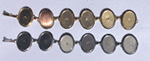 Bracelets are from the 1950s and come with domed copper inserts.
Base metal in gold or silver color.
7-1/2" long $9.00
Redi-Made Brooch Set BRO-4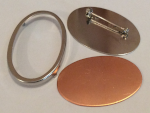 35 x 25 mm (1.38" x 0.98") 20 ga oval copper disk. Gold, silver or black base metal bezel and back plate $8.00 per set